Rates and Fees
The cost of our service is zero, and you can indeed submit a request for a loan through our website without paying anything. Our company does not directly lend money to clients. After submitting your request on our website, our system will look up our network of lenders and match you with the lending companies, and the loan offers that may suit you best. If one of these offers is what you need, you can take a closer look at the offer and place your application directly to that lender.
It is up to the lender, and it is entirely decided by it the amount of the Rates and Fees that you will be charged. Still, it also depends on the state you reside in, its regulations, the type of product you are interested in, and the degree of risk associated with your application. Therefore, you must carefully read all the offers and compare their Rates and Fees as proposed by different lenders. This page aims to teach you how to read and better understand the information you will get from your lender in the best way possible.
Full Disclosure of Terms
If you succeeded in obtaining approval for a loan, you would be directed to an e-signature page provided by the lender. Because of the law, specifically the Truth in Lending Act, a lender has to always disclose all loan fees and interest rates they apply to borrowers when having a loan.
The document presented to you by the lender has to fully contain all rates and fees information related to the loan. You are responsible for fully reviewing the document and the rates and fees included before agreeing to the terms and electronically signing it. It follows that you are not obliged to accept, in case you do not agree. If the terms and conditions of the document suit you, you can e-sign the page and await the transfer of your money into your account. Please notice that e-signing is an important step in the loan process.
More About APR and How it is Calculated
The loan fees and interest rates for your loan are decided and determined by the lenders, entirely based on the information you submitted. Please notice that DirectLoanTransfer does not in any way control or have knowledge of the loan details. This happens as this is confidential information that must be shared between you and your lender only. As previously said, if you do not agree with the loan terms, you can stop the application process at any moment before signing the digital contract.
For what concerns the APR for a payday loan in the U.S., it is nearly 400%. The cost of the APR renders payday loans a kind of high-cost category of loans.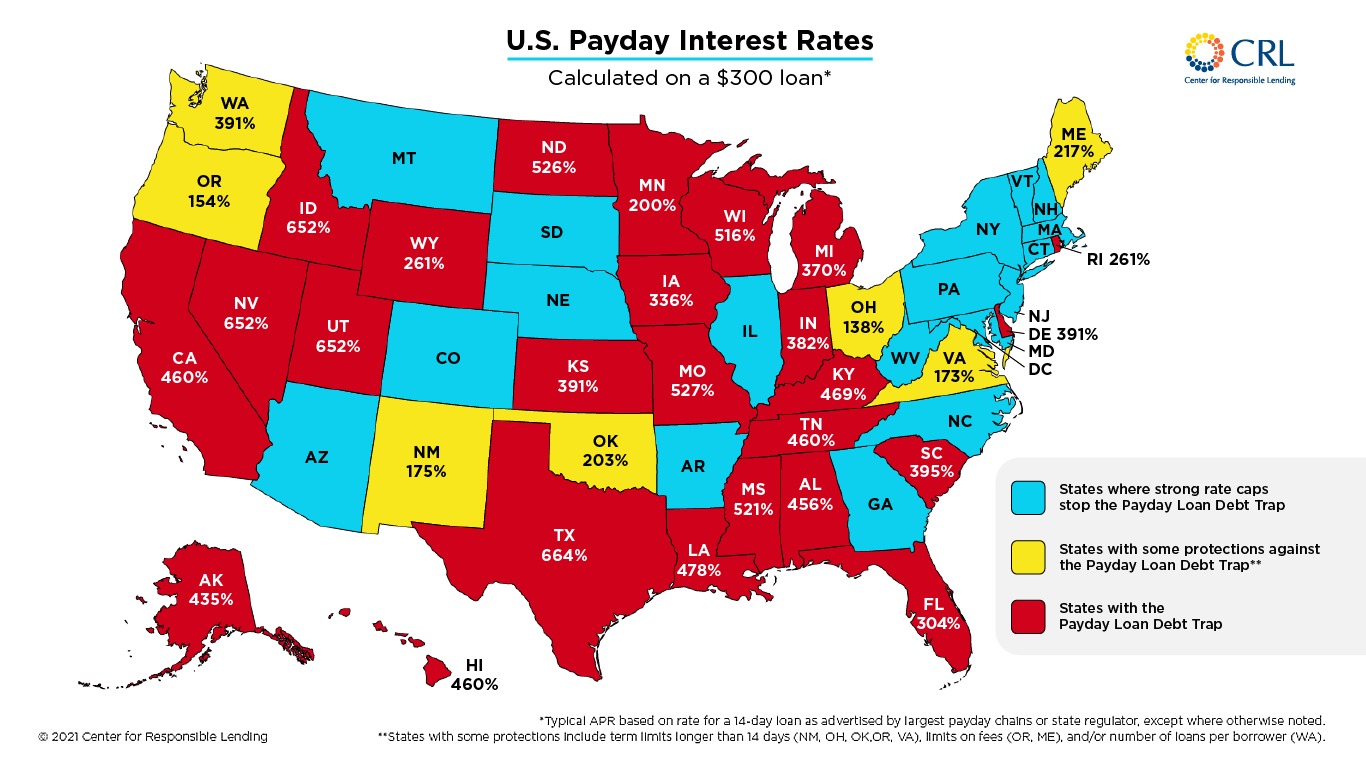 Source: https://www.responsiblelending.org/research-publication/map-us-payday-interest-rates
What Does APR Mean?
It is the acronym for Annual Percentage Rate and is translatable to the annual cost of the loan. To calculate it, you have to add fees and interest paid over the life of a loan, then divide them by the loan amount and the number of days in the loan term, and multiply by 365.
Average APRs in Different States
The cost of a loan does not entirely depend on the lending company, but it has to do with federal and local regulations and laws. Indeed, the cost of a loan fluctuates very much because of this, and we can notice different APRs in different states of the US. You shall not forget, though, that even if not entirely depending on the lending company, a lending company may also offer better APRs than others. Indeed, by respecting the law and keeping to its limits, a company may set a smaller APR to be more competitive in the market. According to the Center for Responsible Lending, the states with the highest maximum APRs are Ohio, Texas, and Utah, with Ohio having a maximum APR of 677%; the states with the smaller APRs are Minnesota, New Mexico, and Oregon. Of course, you do not have to consider the maximum APR in a state and apply it to all its lenders as it may have its own pricing policy and set a smaller APR. What you have to do is always pay attention to and analyze the data of the offers you receive.
Fees and Charges
Other important things to remember are the fees and charges that derive from using payday loans, which might add up to the interest rates.
Late Payment Fees and Charges
Every lender has its own policy for late payment, yet it must disclose all information in the loan process. This is why you should always read the documents attentively when presented with the possibility of e-signing. In addition, all lenders must stick to applicable laws, rules, and regulations in setting their policies about late payment fees.
Non-Payment Fees and Charges
Not paying your loan might make you liable for additional charges and fees because of that. But, of course, our policy is that of collaborating with lenders that conduct their collection activities in a just and reasonable manner.
Loan Renewal Fees and Charges
The terms of loan renewal are mostly governed by state legislation. Some jurisdictions permit rollovers and/or repayment extensions, and penalties and financing charges may apply, which can significantly increase the overall cost of the loan. Understand your state's rollover and extension rules and restrictions. Read the loan agreement in its entirety. Before e-signing the loan contract, be sure you understand how loan renewal choices might impact your loan amount.
Our Lending Policy
At DirectLoanTransfer, our lenders must accept strict lending standards according to our mission and values. The Federal Trade Commission and the Consumer Financial Protection Bureau are responsible for industry regulation and fair treatment of consumers.